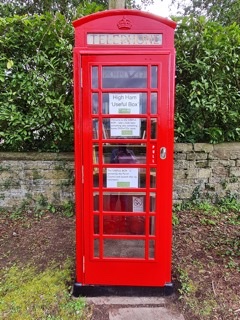 In 2019, High Ham Parish Council purchased the 3 BT kiosks sited in High Ham, Low Ham and Henley, at a cost of £3. Covid Restrictions prevented renovation till April '21 when High Ham's kiosk, located on The Green, was cleaned and rubbed down, and painted in the official 'BT kiosk Red'. Roger Powell did a great job on the painting, and Geoff Webb made the excellent shelving. The High Ham kiosk is now called the ' Exchange Box' and is stocked with donated books, puzzles, CDs, DVDs, seeds. It is checked most weeks to tidy it up, remove any item that is 'past its best' or has been been there too long!   Amanda Chuter
FEBRUARY '23: Thanks to the 2 volunteers, the Low Ham Exchange Box refurbishment is finished and is now ready for the donating and taking of books, CDs and DVDs. All 3 kiosks are now in use: 2 book libraries and 1 housing a defibrillator.
MARCH '22: The Exchange Box on The Green has been 'crowned' thanks to Roger Powell and a tin of gold paint! Thank you Roger. The Henley kiosk now has a defibrillator installed.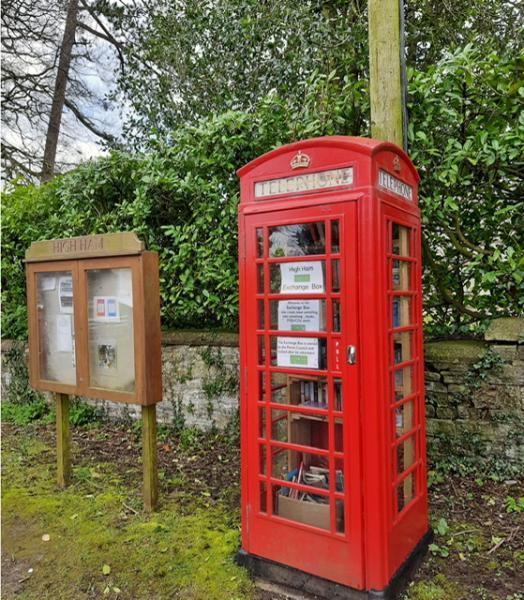 NOVEMBER '21: Paul Green, Dave Fisher and Danny Walker have been working on the refurbishment of the Henley kiosk - another coat of paint to go! It is planned that a defibrillator will be installed, when the work is finished.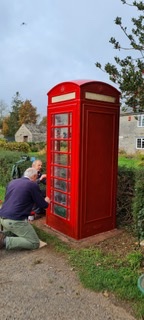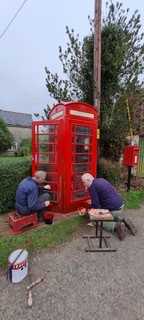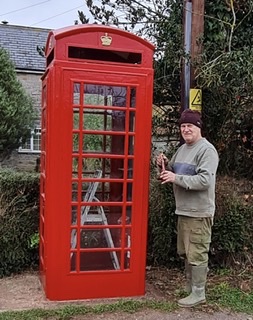 April '21: Since opening mid April, there has been lots of visits to the Exchange Box, with lots of stock coming and going. The renovation of the Low Ham and Henley kiosks will be happening soon.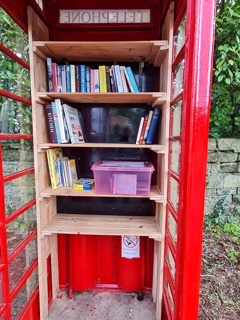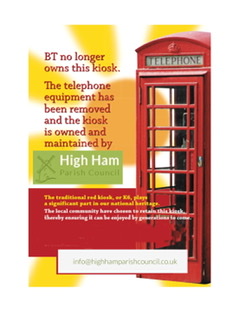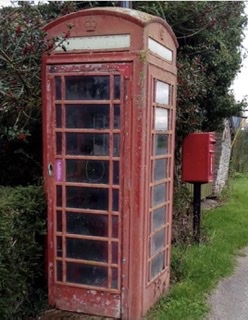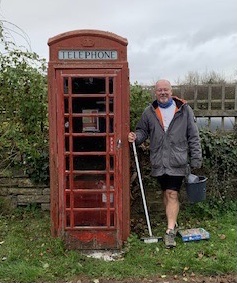 Roger Powell starting the painting the High Ham kiosk.  Henley kiosk awaiting its renovation.     Johnny Allen giving Low Ham kiosk a pre-paint clean