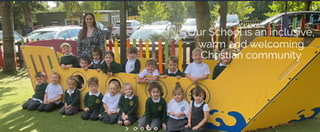 We are all proud of our school and were delighted to be awarded a 'Good' qualification following an Ofsted inspection in September 2022. This confirmed that the children are kind, polite and do their best, helped by the atmosphere that helps them thrive and feel safe. The children described their school to the inspectors as 'a fun place to learn and a safe place to be'.
The staff, governors and parents are all very supportive and work together as a team to help the children in their development, and to prepare them for secondary education. We have six classes and a dedicated team of  teachers and support staff, whose work is guided by our mission statement 'Discovering, Learning and Believing Together'. We emphasise physical as well as mental learning, with the children playing outside and trying different sports.
We are fortunate in our enthusiastic PTA, who tirelessly raise money to pay for the extras that make such a difference to the curriculum. As a church school, we are able to familiarise the children with strong moral, ethical and religious standards, and we use the village church regularly for services and celebrations. We were rated 'Outstanding' after our last SIAMS inspection in 2017.
We work closely with our onsite pre-school (operated by a third party), ensuring that small children are fully prepared for moving into Reception. The pre-school organises our wraparound childcare each school day from 7.30 am to 5 pm. For more information on this please contact Mrs Bekki Peppard on 01458 259739 or at high_ham_preschool@hotmail.co.uk.
You can find out more about us by visiting the school website: www.highhamprimaryschool.co.uk
Headteacher: Mrs Ann Edwards BA (Hons)