High Ham Parish Lengthsman Team - Craig Howe, Rachael Howe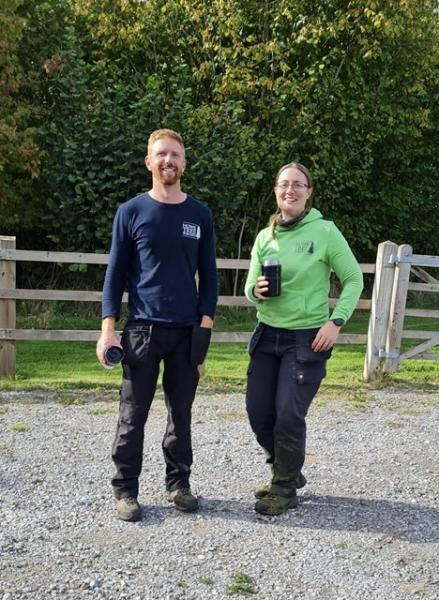 "What's a Lengthsman?" is a question I often get asked, and no doubt if you are reading this you are thinking the same. Historically, a parish Lengthsman was assigned to maintain the country roads within the parish, trimming back hedges, cutting vegetation, filling in potholes and clearing ditches.
Due to changes in law and mechanisation, highway maintenance is now the responsibility of local authorities. Work can now be done in a fraction of the time it took one man using hand tools. Therefore, for a time, the role of Lengthsman disappeared.
In recent years, Lengthsmen started to make a comeback, financed by local authorities such as Somerset. This finance has now been withdrawn and parish Councils with a lengthsman are now responsible for funding the post.
Until March 2016, High Ham Parish Council was a member of the Turn Hill Partnership Lengthsman Scheme along with the parishes of Long Sutton, Long Load, Aller, Huish Episcopi and Pitney. The scheme was created in 2010 by Somerset County Council to provide for the employment of a Parish Lengthsman.     Craig Howe
Craig Howe was appointed and continues to be the Parish Lengthsman for all participating Parish Councils. Two key advantages of the Parish Lengthsman: their ability to develop and use local knowledge and act rapidly to deal with problems; to work more cost-effectively compared to contracting out work.
March 31st 2016, each of the scheme's PCs took on the responsibility of drawing up their own Lengthsman contract, and the responsibility for paying Craig directly. The Lengthsman will maintain insurance policy cover for public liability and damage to property. Since 2016 Craig has been contracted for 65 days pa. In 2020, Craig's wife joined High Ham's Lengthsman team.
Lengthsan tasks include:
Vegetation management at blind corners, verges, visibility splays, signs

Clearance of vulnerable ditches, inlets, drains and grips

Collection of salt from Highways depot, refilling bins
Playing Field repairs, weed control
Pruning trees on The Green and Old Pound
Millenium Wood - path strimming and bramble clearance; brashing, thinning and felling                         
Liaising with MW management group and attending site meetings
Cemetery grass cutting, management of boundary trees
While Craig has a contracted programme of work, he is able to respond to problems identified by parish residents  - Contact Parish Clerk or Amanda Chuter