Tasks carried out by Lengthsman Team, Craig and Rachael Howe
August '23 Craig spent 2 days installing additional bollards on The Green and Little Green to prevent further vehicle erosion and, more importantly, stop the dangerous term-time parking along the main road through The Green. The work was funded by HH PC.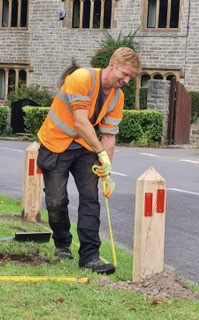 April '23 Rachael Howe, a member of High Ham's Parish Lengthsman Team, was commissioned by High Ham Parish Council to make a new set of 20 'Lost Words' plaques for Millennium Wood, to replace the old ones. The plaques were installed in the woodland on the 18th April. Each plaque has a brief description on the reverse. The plaques were inspired by the book The Lost Words: A Spell Book  written by Robert MacFarlane and illustrated by Jackie Morris. From Acorn to Weasel, the hand-illustrated, large-format spell book celebrates the natural world and the words disappearing from children's lives, words like Dandelion, Otter, Bramble, Acorn, Lark ...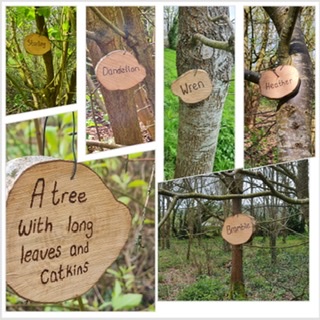 February/March '23:   Millennium Wood: Craig and Rachael have carried out further felling of diseased ash trees; replaced some of the broken Stepping Stumps; reset the broken sign for the Outdoor Classroom? Mowing of paths and rides and restarted.
The Green: 3 bollards have been replaced on the green. There will be a site meeting first week of April  with Craig and Dave  to decide other possible sites for bollards to prevent on-grass and dangerous parking on main road-side through The Green.
Cemetery: Clearance work around the wall and fence in the cemetery has begun.
Mowing and strimming has restarted
January '23: Cemetery: Craig continued felling of selected trees, clearing overhanging vegetation from paths.